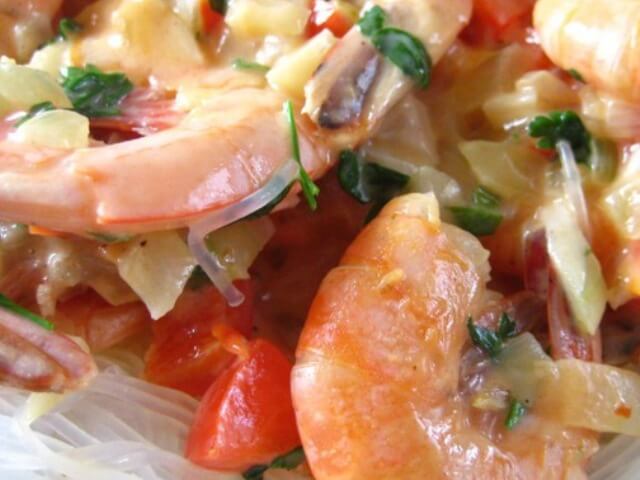 "Flambe" is translated from French as "burning" and it is one of the most popular and unique cooking techniques in France. This is what makes shrimps in the cream sauce an outstanding dish that will become the highlight of any festive table!
Ingredients
tiger shrimps : 12 piece
chili pepper : 1 pinch
sweet red pepper : 1 piece
onion : 1 piece
garlic : 1 clove
parsley : 2 Tbsp (chopped)
cream : 150 ml (25%)
corn flour : 2 tsp (can be replaced with rice flour)
cognac : 3 Tbsp
oil : 2 Tbsp
tomato paste : 0.5 Tbsp
salt : 0.5 tsp
black pepper : 1 pinch
rice : 200 g (or rice spaghetti for a side-dish)
Stages of cooking
Pre-heat oil on a frying pan and fry chopped onion, garlic, chili pepper and red pepper for about 5-7 minutes.

Add shrimps, stew them with the vegetables and keep frying for 3-5 minutes more. Add salt and pepper.

Now, let's "flambe" the shrimps. You have to use the matches only to do that. If the fire does not disappear on its own, just cover the frying pan with the lid, but if you use the recommended amount of alcohol, then the fire will be out in a few seconds.

So, pour the shrimps with the cognac and put them on fire using the matches. Watch the result, which will be just fantastic!

As soon as the fire is out, add tomato paste, cream and stir them well. Then add corn flour and a bit of water to dense the sauce. Add chopped parsley and stir the dish once again.

Your shrimps are ready. Now, let's cook the side-dish using rice spaghetti. It has to be boiled for about 5 minutes only.

Eat the spaghetti with the shrimps and enjoy the taste of this French dish!