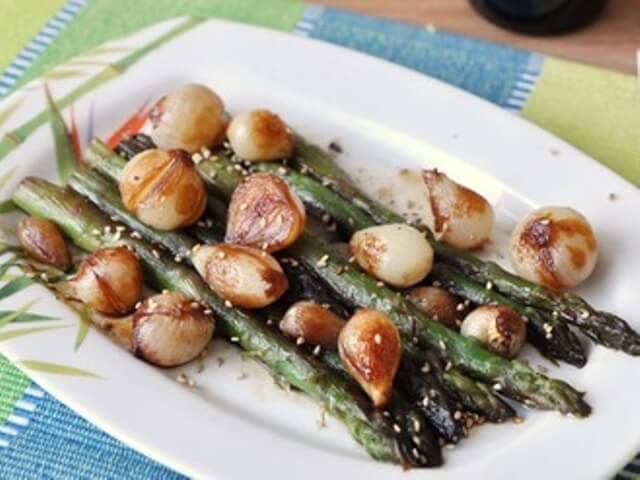 Are you looking for an extraordinary and light appetizer to surprise your guests with? If so, then try cooking asparagus with caramelized onion. This dish will ideally suit any festive occasion or everyday supper!
Ingredients
soy sauce : 2 Tbsp
asparagus : 200 g (fresh or frozen)
Spanish garlic : 200 g (can be replaced with small onions)
apple vinegar : 1 Tbsp
oil : 2 Tbsp
powdered ginger : 0.25 tsp
black pepper mignonette : 0.5 tsp
sesame : 1 tsp
Stages of cooking
Put asparagus into boiling water and parboil for about 2 minutes. Rinse hot water and fill the pot with cold water again. Leave the product in cold water for 2 minutes and rinse it one more time.

Take Spanish garlic or small onions, peel them and fry on oil until they become golden. Do not forget to stir the onions while frying

Pour soy sauce into a small bowl, add apple vinegar and dry powdered ginger

Add the sauce to the fried Spanish garlic (or onions) and stir-fry for about 5 minutes until the sauce evaporates

Add boiled asparagus to the caramelized Spanish garlic, stir everything well, turn off the fire and leave in a frying pot for about two minutes.

Dredge the dish with sesame, black pepper mignonette and serve the appetizer hot or cold. Enjoy the meal!