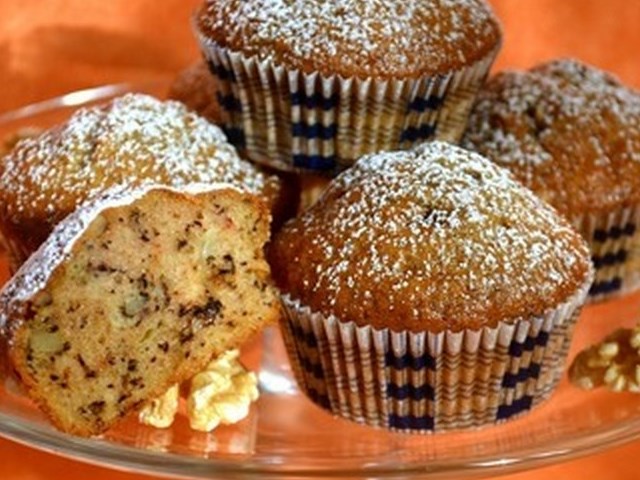 These muffins will make your breakfast healthy and happy. Absolutely delicious and easy to make. It is ideal for weekends mornings.
Ingredients
walnuts : 50 g (any other nuts)
cinnamon : 1 tsp
salt : 1 pinch
baking powder : 1 tsp
flour : 200 g
vegetable oil : 150 ml
cream : 80 ml
sugar : 150 g
egg : 2 piece
banana : 2 piece
Stages of cooking
In a large bowl knead bananas with a fork, if want small pieces find in muffins, or process in a blender if want to have smooth dough, up to you.

Take another bowl and whisk eggs.

Add to bananas cream, vegetable oil and sugar. Mix ingredients well.

Now add whisked eggs and stir everything.

Mix separately flour, salt, cinnamon and baking powder.

Add chopped walnuts, stir everything properly.

Take a muffin tray and spoon dough. Bake in pre-heated to 170 degrees (375 F) oven during 15-20 minutes.

Rest the muffin tray on a wire rack for five minutes then remove the muffins and leave on the rack for another five minutes before serving. Serve the muffins with honey or yogurt.