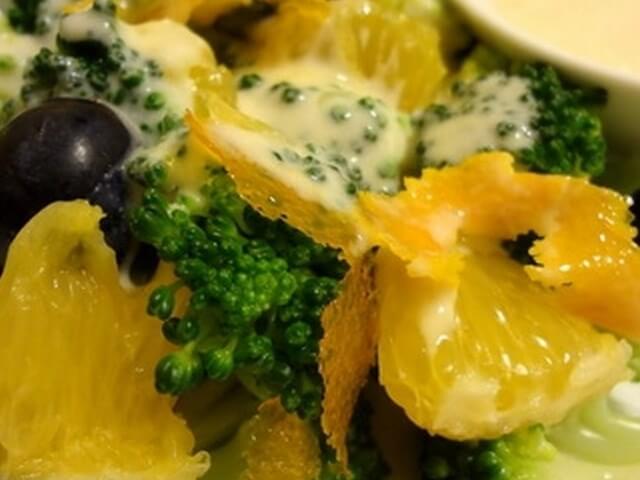 This broccoli salad is very light, cause it is vegetarian and extra tasty. Its yogurt dressing brings special taste and spice. Are you ready to try it?
Ingredients
black olives : 6 piece
black pepper : 1 pinch
salt : 1 pinch
mustard : 1 Tbsp
yogurt : 200 g
orange : 1 piece
broccoli : 1 piece
Stages of cooking
Part broccoli into pieces and place into boiling water. Put salt into water.

Boil until it is ready, for about 10 minutes. Then put aside.

Wash orange. You need its peel.

Place peel into a frying pan, add 2 tbsp of water and 1 pinch of sugar. Fry until all the water is vaporized.

Part orange in two and divide into segments. First part you will use for the dressing, another you will cut into pieces.

In a bowl mix orange juice (squized from the orange), yogurt and mustard. Stir properly.

Chop another part of orange, mix with broccoli and olives.

Pour over the dressing, add fried peel and black pepper. This is it. Enjoy the meal!