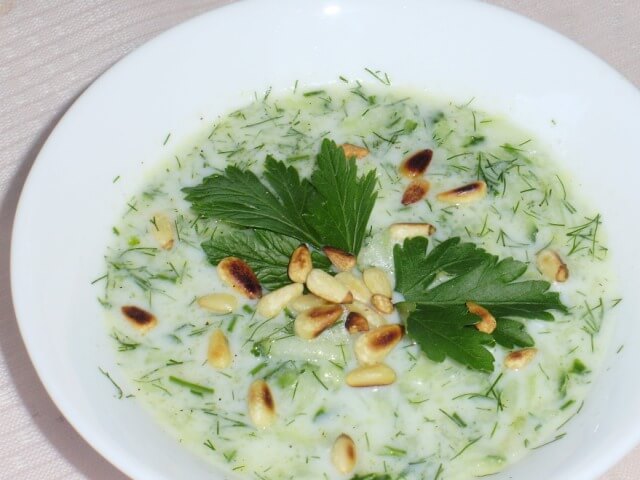 This cold Bulgarian soup will definitely appeal to your friends and family, even if they don't like soups at all. Even children, who taste the soup for the first time, like it – so special and unusual it is! The highlight of the dish is that it is cold! Now, it is your turn to cook the soup!
Ingredients
cucumber : 0.5 piece (long)
kefir : 1 cup
mineral carbonated water : 1 cup
oil : 1 Tbsp
fennel : 0.5 bunch
parsley : 5 piece (branches)
garlic : 2 clove
salt : 0.5 tsp
сedar nuts : 2 Tbsp (fried)
Stages of cooking
Grate a cucumber. Then take another plate, press the garlic, add salt, black pepper, oil and mix the ingredients.

Blend kefir with mineral carbonated water, add pressed cucumber without the juice and garlic dressing you have just cooked. Then add chopped fennel.

Mix all the ingredients well and place into the fridge for about 2 hours.

Fry cedar nuts on a dry frying pan.

Serve cold Bulgarian soup with fried cedar nuts and parsley leaves. Enjoy its refreshing taste!