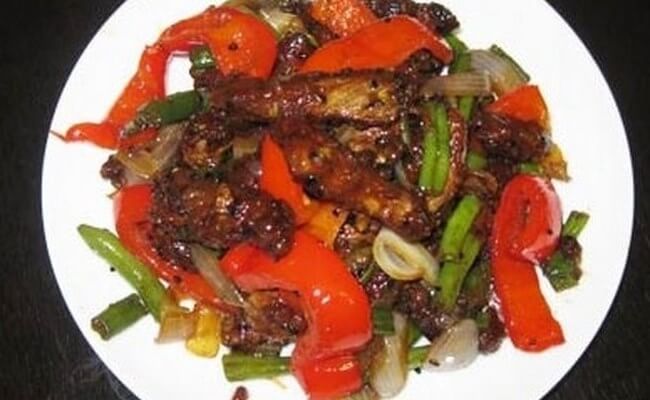 This dish is very aromatic and tasty, it is cooked in Chinese style, still it is very easy to make. Surely, all your family will like this beef dish.
Ingredients
red pepper : 0.5 tsp
sesame : 2 tsp
salt : 2 pinch (per taste)
starch : 100 g
vinegar : 2 Tbsp
soy sauce : 100 ml
vegetable oil : 2 Tbsp
garlic : 5 clove
string beans : 200 g
bell pepper : 200 g
onion : 300 g
beef : 600 g
Stages of cooking
Make a marinade: mix vinegar, soy sauce and pressed garlic.

Place beef into a bowl, pour over the marinade and leave for 40 minutes.

Slice bell pepper, onion and string beans.

To prepare a dressing, mix garlic, red pepper or other spices you want. Add soy sauce (little) and mix.

Dip beef slices into starch. Pour vegetable oil into a pan and little heat.

Now fry beef it must be covered by oil.

Now fry bell pepper and then in 4 minutes add onion.

Fry veggies during 5 minutes then throw them to the beef.

Fry beans during 4 minutes no more and add them to the beef.

Add sesame, fry during 4 minutes, stirring all the time. Then serve!