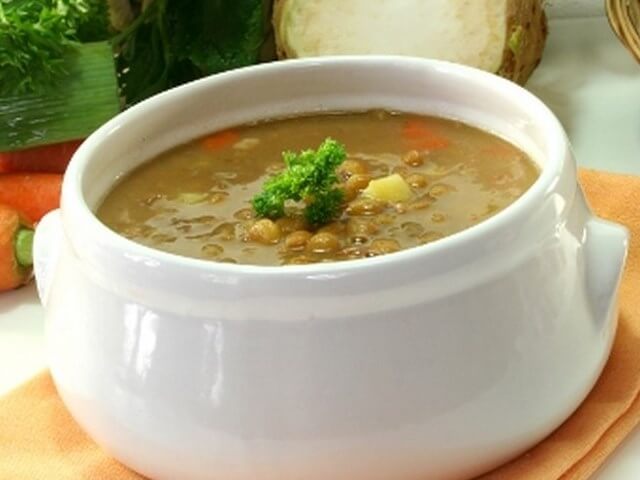 This soup is rather substantial, some think that it is absolutely male dish. Try to cook it, probably you'll like this interesting recipe.
Ingredients
greens : 1 Tbsp
salt : 1 Tbsp (per taste)
vegetable oil : 3 Tbsp
garlic : 3 clove
tomatoes : 2 piece
potato : 3 piece
carrot : 1 piece
onion : 1 piece
lentil : 150 g
meat : 400 g (beef or pork)
Stages of cooking
Put meat in a pan, bring to a boil, then reduce the heat and cook 30 minutes on a medium flame.

Rinse, peel and cut vegetables. At the same time rinse and soak lentil.

Take out the meat out of the pan. Leave its broth.

Oil the pan, fry onion and carrot.

Chop garlic, throw it to the vegetables in the pan.

Throw into the pan and mix.

Throw lentil in the meat broth, cook 20 minutes, add potato and bring to a boil. Add meat and vegetables. throw greens, switch off the flame and leave covered.