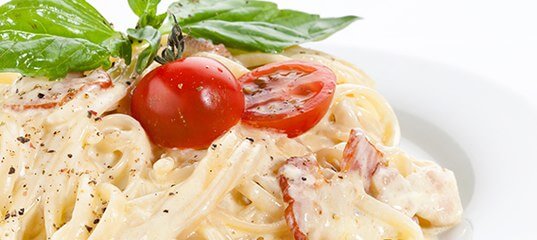 Pasta Сarbonara is a very popular Italian dish. Let\'s find out how to cook this exquisite course.
Ingredients
pasta : 200 g
olive oil : 30 ml
bulb onion : 1 piece
bacon : 200 g
cream : 100 ml
yolk : 1 piece
parmesan : 30 g
cherry tomatoes : 6 piece
green basil : 1 piece
salt : 20 g
sweet pepper : 2 pinch
Stages of cooking
Put all prepared pasta into 2 liters of water, add salt (20 g) and boil it during 11 minutes for making it "al dente" - little hard inside.

Cut bulb onion into thin strips, slice the bacon thin, part white of egg from yolk in individual bowl and divide tomatoes in half.

After this put pasta into colander and dress it with olive oil. Don\'t use all olive oil (just little), you\'ll need it for another stage!

Heat the frying pan, add olive oil, fry sliced bacon and bulb onion during 1.5-2 minutes, until it takes a yellow color.

Pour cream in frying pan and stir everything during one minute. Now we have sauce.

Than put pasta into the sauce and little heat by stiring gently during 30 seconds. You may add more salt if you wish and pepper up to you.

Set the frying pan aside and add yolk. Mix everything.

Serve pasta with grated parmesan, cherry-tomatoes and green basil. Bon appetit!