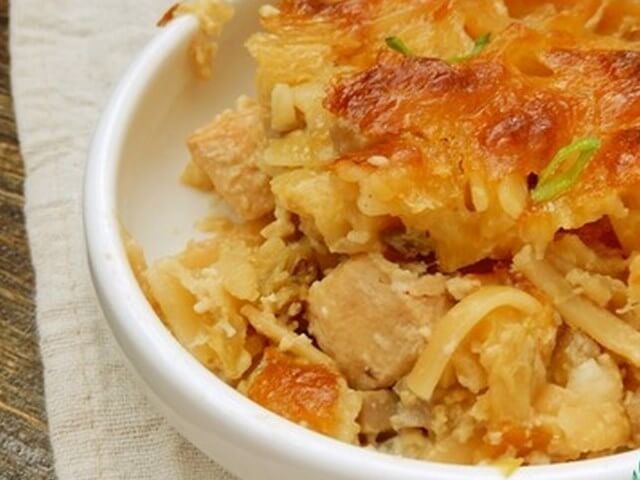 Maybe you think that know everything about pasta with cheese but probably now you\'ll be surprised greatly by this recipe. Read further and start cooking.
Ingredients
oil : 3 Tbsp
soy sauce : 2 Tbsp
hard cheese : 150 g
cream cheese : 200 g
milk : 250 ml
leek : 50 g
chicken fillet : 1 piece
champignons : 100 g
pasta : 200 g
Stages of cooking
Prepare water to boil pasta, meanwhile cut leek and saute until it is soft.

Add cut chicken fillet and fry on a high flame until it is golden.

Now add cut champignons and soy sauce. Mix and saute 5-7 minutes. Pre-heat the oven to 180-200C (360-390 F) degrees.

To make a dressing mix milk, sintered cream cheese and one half of hard cheese, heat until both cheeses are melted, approximately 40-50 minutes. Do not boil!

Boil pasta until it is half ready, place in a collander. Then mix pasta with champignon stuffing. Put in a baking form and pour over the cheese sauce.

Sprinkle over the last hard cheese and bake 15-20 minutes, cheese must be nicely golden.

That is all! Serve and enjoy!