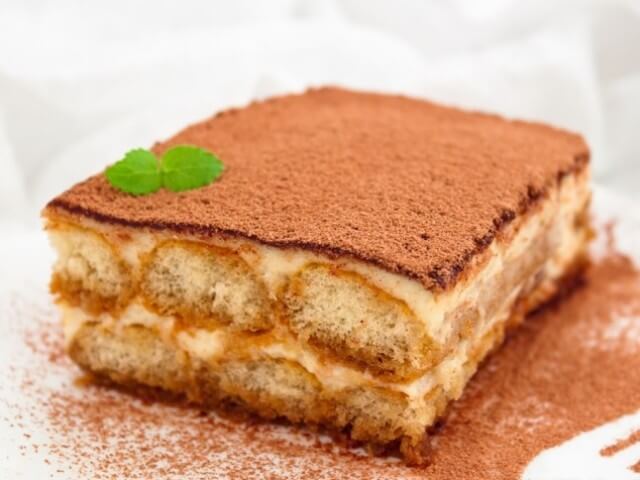 Tiramisu is one of the most popular Italian desserts, which has already gained worldwide popularity. If you have every tasted it, you would hardly forget this fantastic taste. Now, you have a chance to learn the secrets of cooking Tiramisu on your own! Hurry up to surprise your loves ones with this delicious and exquisite dessert!
Ingredients
egg : 4 piece
sugar : 100 g
mascarpone : 500 g
Savoiardi biscuits : 250 g (34 pieces)
instant coffee : 350 ml
cocoa powder : 3 Tbsp
rum : 3 Tbsp (can be replaced by other alcoholic beverages)
Stages of cooking
Separate the whites from the yolks

Add mascarpone, stir everything well using a spoon

Whip the whites. Add the whites to the yolks and cream cheese. Stir the mixture once again.

Take Savoiardi biscuits, plunge each of them into cold coffee. Do this step very quickly to prevent the biscuits from soaking. To brew coffee, boil 350 ml of water and dissolve 4 tablespoons of instant coffee. If you wish, you can add rum, cognac or any other alcoholic beverage you like.

Take a large baking form and place the first layer of Savoiardi biscuits

Spoon half of the cream above. This will be the second layer of the dessert

Then put the layer of Savoiardi biscuits again

Finally, spoon the rest of the cream above. Place the dessert into the fridge for about 5-6 hours

Then dredge it with cocoa powder and cut into pieces! Your Tiramisu is ready! Enjoy!