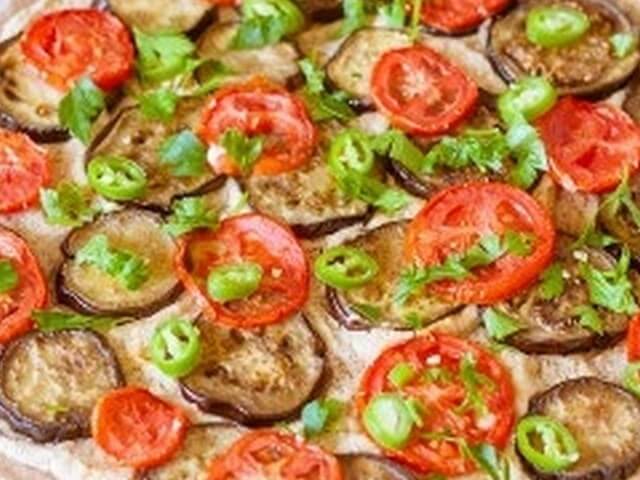 Easy and tasty vegan pizza. It is absolutely healthy. Enjoy it with your family and friends.
Ingredients
flour : 2 cup
vegetable oil : 6 Tbsp
lemon juice : 1 Tbsp
eggplant : 1 piece (medium)
cherry tomatoes : 6 piece
baking powder : 1 tsp
white beans : 1 cup
dried thyme : 0.5 tsp
dried rosemary : 0.5 tsp
green chili pepper : 1 piece
salt : 0.5 tsp
water : 100 ml
garlic : 2 clove
black pepper : 0.5 tsp
Stages of cooking
Take a large bowl and mix flour, baking powder and salt. Now add water and vegetable oil. Mix and then knead with your hands. Divide the dough into two parts. Form these parts into balls and place in the fridge for half an hour.

Wash the eggplants and cut into slices.

Cover the baking tray with baking paper. Place the eggplant slices in one row, brush them with vegetable oil and place the baking tray into pre-heated to 220 degrees oven for 5-6 minutes.

To make sauce for pizza mix garlic, white beans, 2 Tbsp of vegetable oil, lemon juice, dried thyme, black pepper and salt until it becomes smooth.

Take one ball of dough out of the fridge. Roll the dough on baking paper into a round shape.

Spread white bean sauce over the pizza crust.

Top the sauce with a layer of baked eggplants, then the layer of sliced cherry tomatoes. Put into the oven and bake at 180 degrees.

Check pizza after 20 minutes. Take it out of the oven when the edges become golden. Serve pizza garnished with slices of green chili pepper.