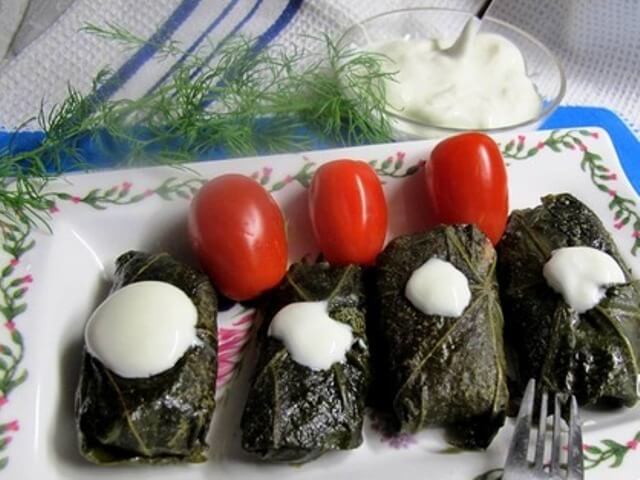 People, who are just going to become vegetarians, sometimes think that their menu will not be versatile anymore. Meanwhile, there are lots of dishes that can make a difference, when it comes to the vegetarian menu. The recipe of dolma cooked in the unusual way is the best proof of this fact!
Ingredients
red peas : 50 g
rice : 20 g
vine leaf : 10 piece
oil : 20 ml
cilantro : 5 g
Khmeli-suneli : 2 g
walnuts : 15 g
garlic : 2 clove
Stages of cooking
Put the vine leaves into cold water for half an hour and wash them afterwards. Remove the leafstalks. Boil peas and rice.

Blend the boiled peas to get the puree. Add chopped walnuts and fine grated garlic. Mix with chopped cilantro, rice and khmeli-suneli.

Put the topping on the vine leaf.

Wrap it as it is shown on the photo.

Fry on oil in the frying pan, add water and stew for about 20-30 minutes. The vegetarian dolma is now ready! You can serve it with sour cream and fennel or without them! Bon appétit!