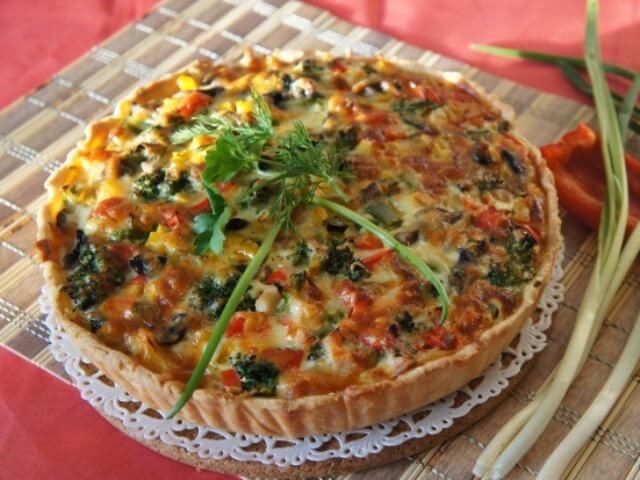 This vegetable quiche is so unusual and delicious that you will not resist the temptation to taste it! Those people, who have got used to eating meat dishes, will find it difficult to tell that the dish does not contain meat at all! Try cooking it for your loved ones and surprise them with a healthy, aromatic and tasty dish!
Ingredients
flour : 250 g
egg : 5 piece (1 for the dough and 4 for the liquor)
butter : 125 g (cold)
water : 3 Tbsp
broccoli : 1 piece (for the topping)
sweet pepper : 1.5 piece (red, yellow and green)
canned corn : 4 Tbsp (for the topping)
champignons : 6 piece (for the topping)
hard cheese : 30 g (for the topping)
cream : 200 ml (33%)
salt : 0.5 tsp
black pepper : 0.5 tsp
leek : 1 piece
soft cheese : 80 g
Stages of cooking
Sift the flour. Add chopped butter and salt. Mix the ingredients with your hands and add one egg and water

Knead the dough, make it round-shaped, wrap into kitchen film and place into the fridge

Boil the champignons in the salty water, cut them into halves and then slice the mushrooms

Cut the broccoli into small florets and parboil in the salty boiling water for about 3-4 minutes, then wash with cold water. Cut the sweet pepper into cubes

Slice the leek into semi-circles

Put the ingredients into a deep bowl

Add grated cheese, salt, pepper and mix the ingredients

Cover the baking form with baking paper and butter it. Roll out the dough, put it into the baking form and spread it with your fingers making high edges. Cover the dough with one more layer of baking paper and spread the peas over it. Place the baking form into the pre-heated to 200 degrees oven for about 10 minutes. Remove the quiche, take away the peas with baking paper and put the topping above the dough

Whip the egg with cream, add salt and pepper. Spread the liquor above the topping

Dredge the vegetable quiche with grated hard cheese and soft cheese

Bake for about 25-30 minutes and leave the dish to cool down a bit. Bon appétit!