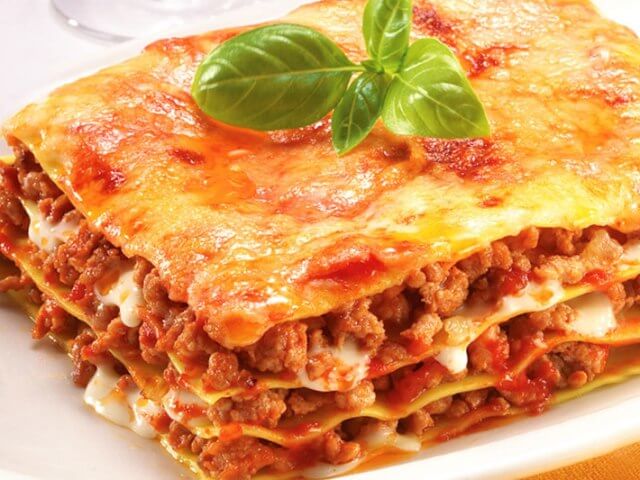 Lasagna is a traditional Italian dish, which has now gained worldwide popularity. And it is no wonder, because lasagna contains healthy products, which are always at hand. The dish will be a great addition to your festive table!
Ingredients
Lasagna sheets : 250 g
minced meat : 1 kg (beef)
tomatoes : 500 g
garlic : 4 clove
onion : 200 g
carrots : 150 g
milk : 1 litre
butter : 100 g
hard cheese : 300 g
flour : 100 g
parmesan : 50 g
salt : 0.5 tsp
black pepper : 0.5 tsp
oil : 30 ml
Stages of cooking
Put minced meat into a large and deep bowl. Add salt and pepper. Mix everything well

Wash the tomatoes. Boil water and place the tomatoes in it for about 1-2 minutes. Take the tomatoes from the boiled water and peel them. Grate the vegetable and blend it well to get tomato puree

Wash and peel the onions. Chop them and fry on oil in a frying pan. Keep frying the onions until the pieces become transparent

Wash and peel the carrots. Grate them and add to the onions. Mix the vegetables and keep frying them for about 3 minutes. Add minced meat and fry for 20 minutes more until the meat is ready. As soon as you are done with the meat, add tomato puree. Mix everything well and keep frying for about 5-10 minutes. That's it! The topping for your lasagna is ready!

Now, let's cook the Béchamel sauce. Take a pot and melt butter in it. Add flour and fry the mixture until it becomes cream coloured

Add milk to the mass and stir the sauce well. Keep boiling the sauce until it becomes dense. Stir it every 2-3 minutes to make it smooth

Take the first lasagna sheet, cover it with half of meat and pour several spoons of béchamel sauce. Grate the hard cheese and dredge the first layer. Cover the first sheet with the second one and repeat the steps you have just made. Then put the last lasagna sheet, cover it with the sauce and dredge with the rest of cheese. Bake in the pre-heated to 180 degrees oven for about 40 minutes. Take your lasagna from the oven, grate Parmesan cheese and dredge the dish with it. Place your lasagna back into the oven for 5 more minutes. That's it! Your traditional Italian Lasagna is now ready! Bon appétit!